I
love yoga for two reasons: Outer Awareness & Inner Awakening.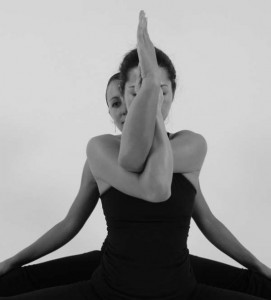 First, yoga has given me the gift of health and vitality. I was never a very athletic or healthy child. I was always in the nurse's office for one reason or another. I was always the last picked person for volleyball in elementary school. I did gymnastics and dance in school, but generally felt awkward and disconnected from my body. In my late teens and early twenties, I started a gentle practice of Integral yoga, which led to ashtanga yoga soon thereafter. Very quickly I became stronger, more flexible, with a noticeable improvement in my immunity to sickness. In addition to the physical changes, I noticed increased ability to focus, which improved my performance in school. My relationships, perhaps due the simple fact that I felt better, also started to improve. I didn't lose my temper so easily. And my long-standing problems with anxiety and shyness started to incrementally improve.
Secondly, and of greater importance, yoga has gifted me with the potential toward inner awakening. In fact, inner awakening might be the real reason behind all of the benefits previously listed. My mind and emotions, once so easily wrought to and fro, were (and are) slowly starting to settle down. I started a meditation practice in my late teens, and yoga deepened and enhanced the benefits of sitting. My hardness and aversion towards the world began to dissipate, and I began to feel an inner opening that I can't yet fully explain. Rather than just being able to see a select few aspects of my life, I began to see more elements of my life equally. It was as if someone had widened my frame of reference, and instead of just seeing a leaf, I could see the shape of the branches, the tree, the forest, and the sky above it all. My inner world also started to expand, and I slowly began to notice things about myself that I hadn't before—some good and some not so good.
Teaching was and is merely a way to explore this whole process of inner awakening and outer awareness. It's interesting to see how similar we all are as we embark on this path. Sure, we all have different personal histories, bodies, and minds, but all in all, we wrestle with very similar emotions. Through watching people practice yoga, I have seen yoga's transformative power. For some that power is purely physical, and for others it's an abstract psychological and emotional transformation, and for others it's both. In any case, yoga has shown me a hint of what it means to find a home within myself and within the universe. I am beginning to learn what it means to empathize, be compassionate, and what it means to truly connect with myself, the world around me, and a greater power that I do not yet know.
If you are curious about what you might learn through a yoga practice, you are welcome to join me this spring at the University of Hawaii at Manoa for the Art of Yoga, a series of classes beginning on February 12. For more information and to register visit http://outreach.hawaii.edu/noncredit/courses/programdetail/1660 or call (808) 956-8400.
If you are interested in the contemplative value of yoga as it relates to the creative process, join David Ulrichand I for our creativity series at the University of Hawaii at Manoa. Classes start February 11. For more information and to register, visit http://outreach.hawaii.edu/noncredit/courses/programdetail/1656 or call (808) 956-8400.
Adapted from Laura Dunn Yoga Blog.