Creative Awakening with a Daily Practice in Photography
The illiterate of the future will be ignorant of the pen and the camera alike.  —Lazlo Moholy-Nagy, 1934
P
hotography has rapidly become the dominant medium of the twenty-first century and most people now carry high quality cameras in their pockets. Yet many are unaware of the power of photography to bring them more fully into the present moment and help discover their authentic vision. 
Zen Camera
 teaches mindful attention through the medium of photography and guides readers to use photography as a means of awakening creativity and deep perception in the digital age. Following in the path of highly successful books such as 
The Artists Way
 by Julia Cameron and 
Drawing on the Right Side of the Brain
 by Betty Edwards, 
Zen Camera
 updates the principles found in these books and applies them to photography for a current audience—offering timeless wisdom through a contemporary lens.
The material found in Zen Camera has helped many people in my classes and has been distilled from 40 years of teaching photography in both college settings and workshops for the general public.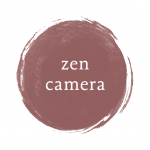 Publication February 2018, Ten Speed Press/Random House.